The SWW Method™ Online Course
Regular price

Sale price

$450
Are you ready to experience the transformation?
Have you tried every diet on the market and felt like nothing works?
Our solution is based on science, not trends.
The SWW Method™ Online Course is a digital version of our celebrated SWW Method™ program developed by holistic nutritionist Sarah Wragge. This course will educate you on the proprietary 10-step SWW Method™ at your own pace. Sarah will guide you through each step and provide in-depth information to incorporate The SWW Method™ into your everyday life. During this program, you will learn how to balance your blood sugar, conquer cravings, stay full all day, and eat for endless energy. We empower you with the tools to achieve long-lasting wellness goals.

THIS ONLINE COURSE INCLUDES:

A program checklist
A digital, downloadable workbook to help keep you on track during the program
10 modules from Sarah educating you about each step of The SWW Method™ and the science behind it
Exclusive, lifetime access to the SWW™ meal delivery service
The SWW™ Favorite Brands Guide
Bonus wellness education videos from Sarah Wragge

Interviews with Dr. Michael Breus, Kevin Menard, Cindy Suarez, Jennifer Fisher, and Erika Bloom

Bonus PDF materials including weekly meal planner, lifestyle journal, and more
ADD ONS:

Invitation to The SWW Method™ Alumni program upon completion

Monthly group coaching call with a SWW™ coach
Extended access to all the Online Course content
Community Alumni Group

The SWW Method™ Workbook, a printed and bound companion piece to help you through our SWW Method™ Online Course ($35)

Our SWW Method™ Workbook will reinforce the principles of The SWW Method™ with materials to keep you on track. This workbook is an excellent resource to have both during the program and beyond. Handouts include the SWW™ favorite brands list, a "SMART Goal" handout to help you define and set your goals a lifestyle journal to hold you accountable and help you stay on track, a meal planner sheet to help you plan ahead, worksheets to give you an enhanced understanding of the 10-steps of The SWW Method™, and much more.


The SWW™ Water Bottle ($45)
PLEASE NOTE: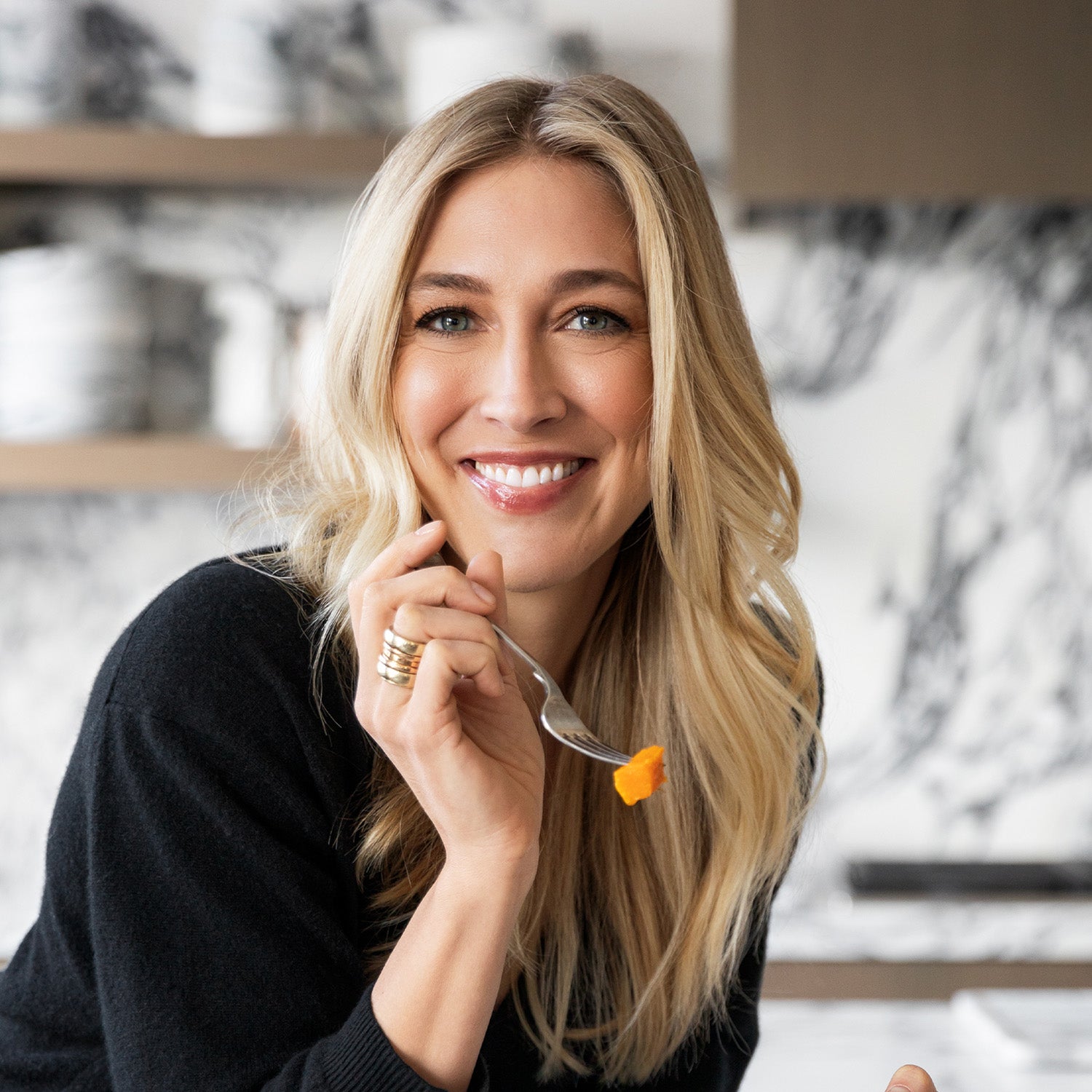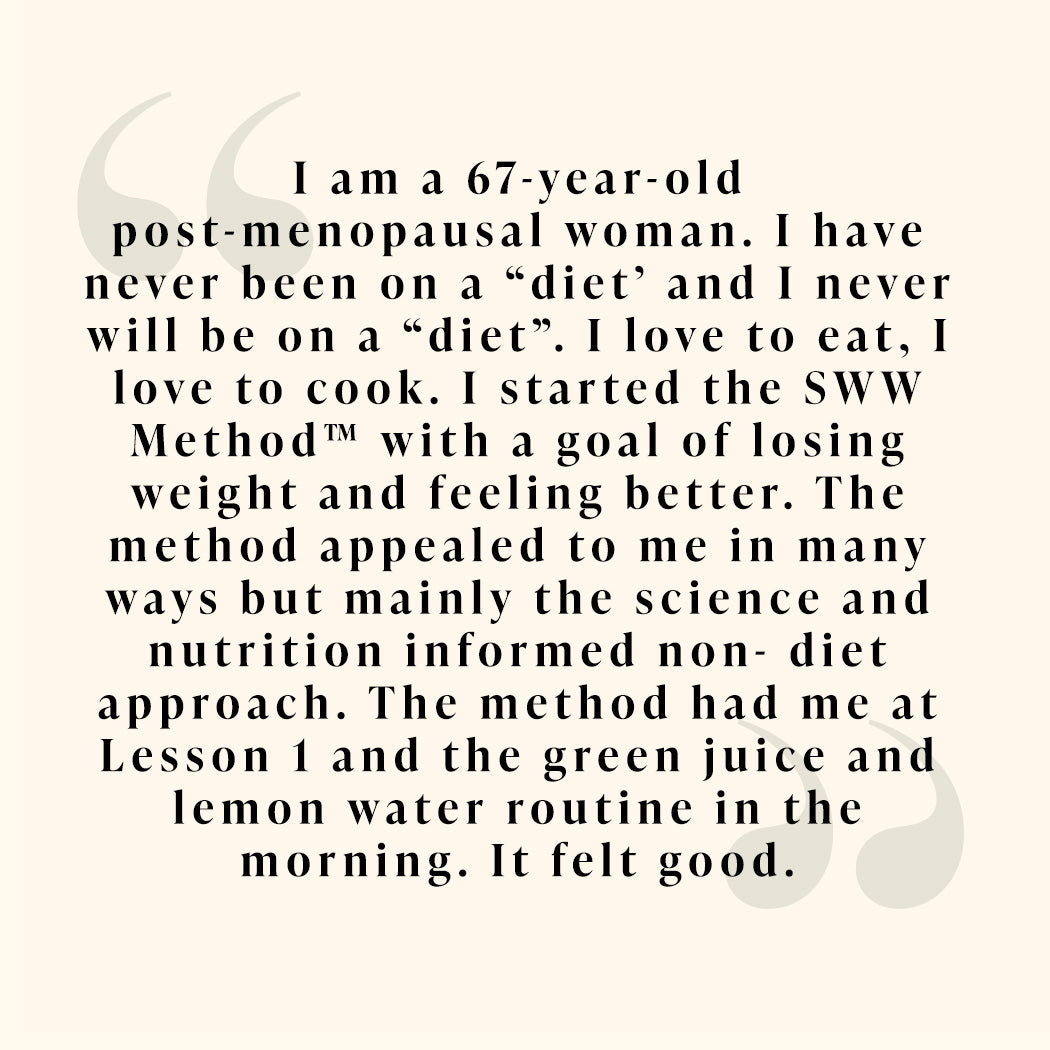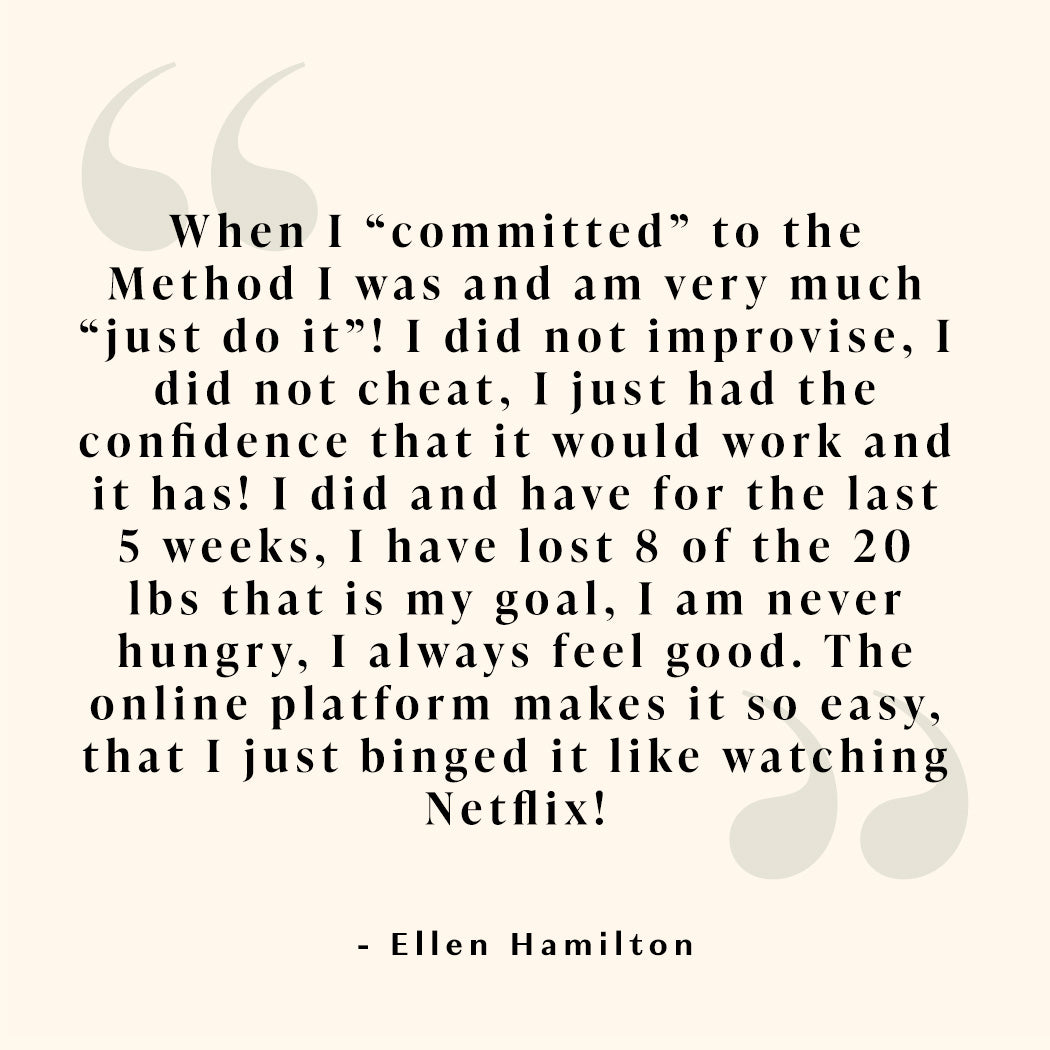 THE SWW METHOD
™

TEACHES YOU HOW TO:
BURN FAT

The heart of our SWW Method™ program is teaching you how to optimize the amount of time your body burns fat every day. We arm you with the information and tools you need to make powerful choices that allow you to splurge and indulge guilt-free. 
CONQUER CRAVINGS

Most people don't realize how much sugar they consume daily beyond the obvious sweet snacks and desserts. Sugar begets sugar — the more sugar you eat, the more you crave. When you take the sugar out of your diet and replace it with protein, fiber, greens, and satiating healthy fats like nuts, avocado, and even dark chocolate, you'll see results. And it will feel effortless.
STAY FULL ALL-DAY

Few people can stick with a program long term if they're hungry all the time, because hunger will always win. In this program, we teach you how to set up your day so that your meals are nutrient-dense and jam-packed with protein, fiber, fat, and greens so you feel balanced, calm, and satisfied after and between meals.
EAT FOR ENDLESS ENERGY

Through our unique approach, you'll learn how to move your body from sugar-adapted to fat-adapted. As your body burns fat, rather than using sugar for fuel, it begins to convert energy in a whole new way. Breaking the cycle of spikes and drops, you'll feel less frenetic, less bloated, and discover a store of calm, endless energy that doesn't quit. 
Join Us If You:
You are Self-motivated 
Are someone who does not need to be held accountable by a personal coach
Want to watch (and rewatch) course at own pace 
Have tried it all and are sick of trendy diets that don't work long term
Want to understand the science behind each step 
Most importantly, if you are ready for a long-lasting change
Tangible Results.
This is not a diet. It's a lifestyle. Experience The Transformation.
Real People. Real Results.
I am a 67-year-old post-menopausal woman. I have never been on a "diet' and I never will be on a "diet". I love to eat, I love to cook. I started the SWW Method™ with a goal of losing weight and feeling better. The method appealed to me in many ways but mainly the science and nutrition informed non- diet approach. The method had me at Lesson 1 and the green juice and lemon water routine in the morning. It felt good. When I "committed" to the Method I was and am very much "just do it"! I did not improvise, I did not cheat, I just had the confidence that it would work and it has! I did and have for the last 5 weeks, I have lost 8 of the 20 lbs that is my goal, I am never hungry, I always feel good. The online platform makes it so easy, that I just binged it like watching Netflix!

Ellen Hamilton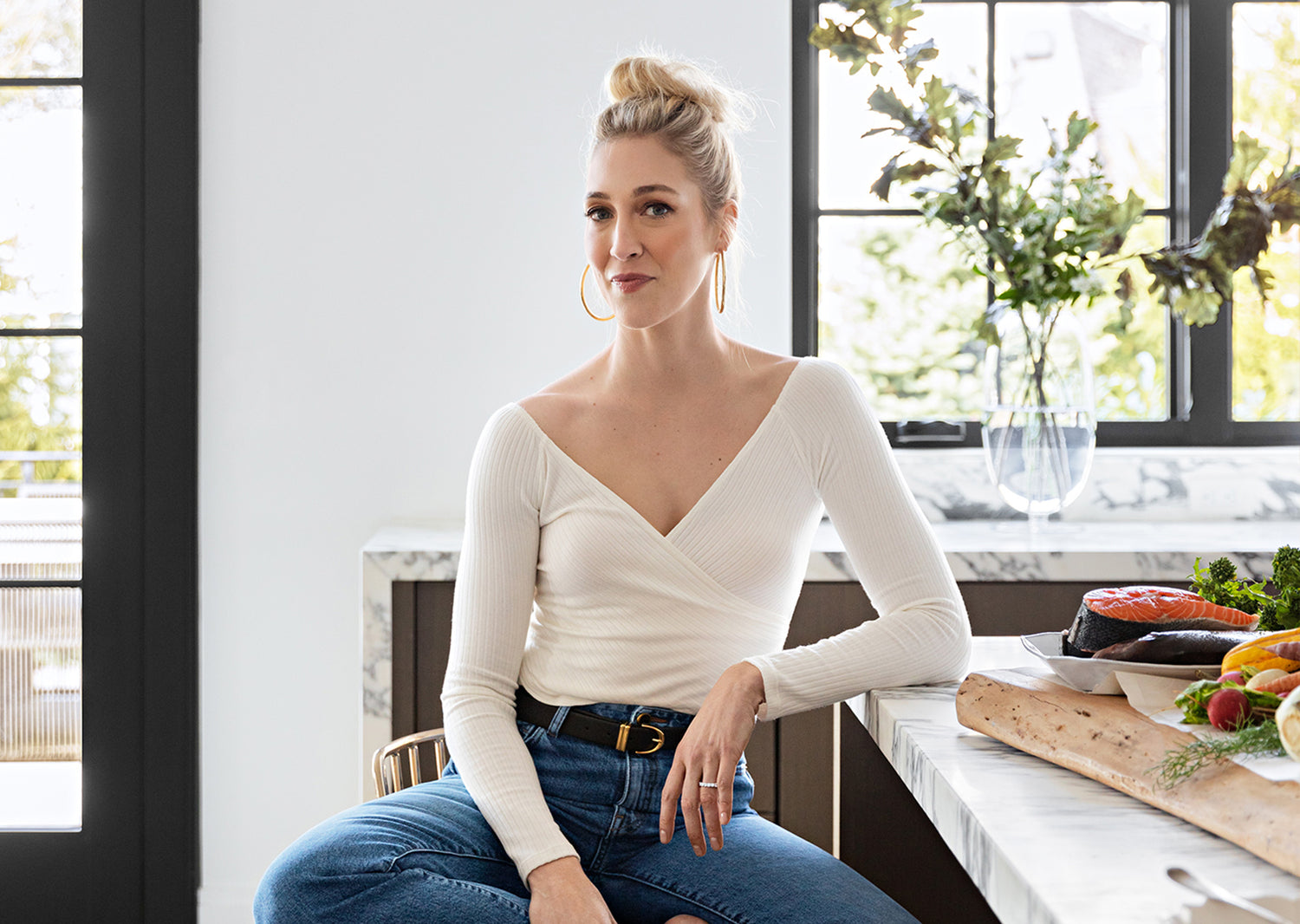 MEET THE FOUNDER
Sarah Wragge
NUTRITION EXPERT | HEALTH ADVOCATE | RESULTS DRIVER
Sarah Wragge is known for her transformative method that changes your approach to nutrition, achieves results and creates lifelong behavioral changes.  As Founder and Chief Nutritionist of innovative nutrition brand Sarah Wragge Wellness™, Sarah and her team of registered dietitians and clinical nutritionists educate and empower people to discover the connection between nutrition and well-being.
Read Her Story
FAQs
How do I access my course?

Once the product is purchased you will receive an email with the login instructions. If you have been part of an SWW™ program before you will use your previous log in credentials. If you are new to the SWW™ community, you will receive and email with a temporary password. You will be prompted to change your password upon your first login.
How long do I have access to the course?

You will have access to the course for 90 days from your purchase date.
What do I do if I forgot my password?

Head to theswwmethod.com and click "forgot password" at the bottom of the login page.
What if meant to buy The SWW Method™ Group Coaching Program?

Please email hello@sarahwragge.com if you would like to be in the other method course prior to starting and we can help put you into that program.